Critica
Le masque objet et le masque du faux-semblant de Jean Lorrain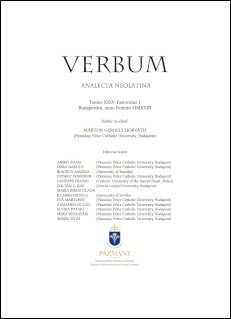 Published 27-06-2023
How to Cite
Ferrety Montiel, M. V. (2023). Le masque objet et le masque du faux-semblant de Jean Lorrain. Verbum – Analecta Neolatina, 24(1), 163–186. https://doi.org/10.59533/Verb.2023.24.1.8
This work is licensed under a Creative Commons Attribution 4.0 International License.
Abstract
It was at the end of the century and thanks to the decadent movement that a new use was attributed to the mask. Indeed, it allows the enthronement of an expression of interiority where the spirit prevails over the body. Thus, it opens the way to a liberation from social constraints by materialising the human soul, since it is no longer a question of granting the human face a unique representation, but the search for the hermeneutic message that it seems to want to conceal. In Jean Lorrain's Histoires de masques, the narrator reveals the audacity and transgressions of those who wear masks. Our analysis will focus on the existence of two types of masks: the object mask and the pretense mask. We will question the opposing phenomena of resistance and disappearance, as the mask becomes the problematic and polysemous sign of a society that has lost its bearings.
References
Boyer, A.-M. (2005) : Je est un autre. In : L'homme et les masques, chefs-d'œuvre des musées Barbier-Mueller, Genève et Barcelone. Genève : Hazan. 13–71.
Cachia, J.-L. (1985) : Jean Lorrain ou la Belle Époque travestie. Europe 672, avril : 166–172.
Delançon, J. (1995) : Moreau contre Moro : La monstruosité picturale dans Monsieur de Phocas de Jean Lorrain. La Licorne 35 : 113–124.
Delattre, S. (2000) : Les douze Heures noires : La nuit à Paris au XIXe siècle. Paris : Albin Michel.
Ducrey, G. (1999) : Roman fin-de-siècle (Anthologie). Paris : Robert Laffont, coll. « Bouquins ».
Durand, G. (1992) : Les Structures anthropologiques de l'imaginaire. Paris : Dunod.
Gaubert, E. (1905) : Jean Lorrain. Paris : Sansot.
Grivel, C. (1993) : Lorrain, l'air du faux. Revue des Sciences Humaines 230/avril–juin.
Ibrahim, M. (2012) : La névrose de Jean Lorrain dans « Histoires de masques ». Paris : L'Harmattan.
Jullian, P. (1974) : Jean Lorrain ou le Satiricon 1900. Paris : Fayard.
Kyria P. (1973) : Jean Lorrain. Paris : Seghers.
Lorrain, J. (1895) : Sensations et souvenirs. Paris : G. Charpentier et E.
Fasquelle.
Lorrain, J. (1900) : Histoires de Masques. Paris : Paul Ollendorff.
Lorrain, J. (1901) : Monsieur de Phocas. Paris : Paul Ollendorff.
Lorrain, J. (1905) : Le crime des riches. Paris : Pierre Douville.
McLendon, W. (1978–1979) : La signification du masque chez Jean Lorrain. Nineteenth-Century French Studies VII(1–2). Automne-hiver.
Melmoux, M.-F. (1992) : Fin de siècle, « grand mardi gras de l'esprit » (Sur Jean Lorrain). Romantismes 75. https://doi.org/10.3406/roman.1992.6002
Mortier, A. (1877) : Les Soirées parisiennes. Paris : Dentu.
Normandy, G. (1907) : Jean Lorrain, son enfance, sa vie, son œuvre.
Paris : Bibliothèque Générale d'édition.
Palacio, J. de & É. Walbecq (2009) : Jean Lorrain, produit d'extrême civilisation. Publications des Universités de Rouen et du Havre. https://doi.org/10.4000/books.purh.1221
Paraboschi, F. (2015) : Troubles visionnaires, regard impitoyables.
Masques et masquages chez Jean Lorrain. Milan : Mimesis.
Paré, S. (2007) : Les avatars du Littéraire chez Jean Lorrain. Loxias 18.
Ponnau, G. (1987) : Jean Lorrain, écrivain du masque et de la névrose. In : La Folie dans la littérature fantastique. Paris : Editions du Centre National de la Recherche Scientifique. 273–283.
Puymirat, P. (2010) : Le masque : de l'identification au sinthome. Pragmatique, Mai.
Santos, J. (1995) : L'art du récit court chez Jean Lorrain. Paris : Librairie Nizet.
Simard-Houde, M. (2011) : Fiction de la chronique chez Jean Lorrain. Interférences littéraires 6 : 81–98.
Sénèque. [s. n.] (1877) : De la clémence. In : Œuvres complètes, Paris : Chez Firmin Didot, I.
Schneider. M. (1985) : Histoire de la littérature fantastique en France, Paris : Fayard.
Yvorel, J.-J. (1993) : La morphinée : une femme dominée par son corps. Communications 56 : 105–113. https://doi.org/10.3406/comm.1993.1851
Yvorel, J.-J. (1992) : Les poisons de l'esprit. Paris : Quai Voltaire.