Critica
Boccaccio tra due mondi – Su alcune figure della Genealogia Deorum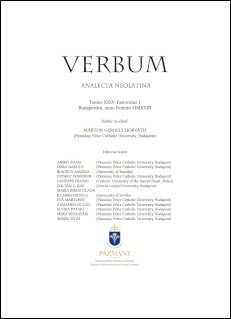 Published 27-06-2023
How to Cite
Babics-Villata, Z. (2023). Boccaccio tra due mondi – Su alcune figure della Genealogia Deorum. Verbum – Analecta Neolatina, 24(1), 141–162. https://doi.org/10.59533/Verb.2023.24.1.7
This work is licensed under a Creative Commons Attribution 4.0 International License.
Abstract
The present article aims to represent on the one hand the structure and compositional method of Boccaccio's Genealogia deorum gentilum, while trying on the other hand to illustrate a kind of internal struggle of the Author, an indicator of the dialectical duplicity with which his work is innervated. I have chosen some mythological stories of characters punished for their behavior, which are particularly suitable for observing Boccaccio's method: the meticulousness with which he collects sources and explanations of the stories, using the typology derived from Dante. We can thus recognize Boccaccio's encyclopedic system: on the one hand through the choice of the sources considered most reliable and their interpretation, in which the Christian moralist shines through, sometimes pretermittedly, and on the other, through the way of collecting all the knowledge (sources, variations, explanations) of the mythological stories, which if it still shows the typical ideology of medieval encyclopedism, places Boccaccio, in his enthusiasm for ancient texts (felt as a world to be explored and revived), as a precursor of the humanism of later generations.
References
Adamik, T. (1996): Római irodalom a késő császárkorban [Letteratura romana nell'eta tardoimperiale]. Budapest: Seneca Kiadó.
Babics, Zs. (2005): Gli eroi mitologici dei Romani nella Genealogia deorum ovvero l'umanesimo particolare di Giovanni Boccaccio. Verbum Analecta Neolatina 7/1: 303–324. https://doi.org/10.1556/verb.7.2005.1.18
Babics, Zs. (2010): Rappresentazione insolita dei grandi fondatori della città di Roma nella Genealogia deorum gentilium di Boccaccio. Verbum Analecta Neolatina 12/2: 421–435.
Babics, Zs. (2010): La figura di Didone nelle opere latine del Boccaccio. Acta Antiqua (Acta Ant. Hung.) 50: 431–458. https://doi.org/10.1556/AAnt.50.2010.4.6
Battaglia Ricci, L. (2000): Boccaccio. Roma: Salerno Editrice.
Branca, V. (1996): L'Atteone del Boccaccio fra allegorico cristiana, evemerismo trasfigurante, narrativa esemplare, visualizzazione rinascimentale. Studi sul Boccaccio 24: 193–208.
Branca, V. (1997): Giovanni Boccaccio profilo biografico. Firenze: Sansoni Editore.
Cursi, M. (2015): Boccaccio lettore di Omero: le postille autografe all'Odissea. Studi sul Boccaccio 43: 5–27.
Curtius, E. R. (1948, 2022): Letteratura europea e Medio Evo latino [Europeische Literatur und lateinisches Mittelalter (1948)]. Macerata: Quodlibet.
Dronke. P. (1974): Fabula. Explorations into the uses of Myth in mediaval Platonism. Leiden & Köln: E. J. Brill.
Gabriele, M. (2014): Demogòrgone: il nome e l'immagine. In: A. Ferracin & M. Venier (eds.): Giovanni Boccaccio. Tradizione, interpretazione e fortuna. Udine: Forum. 45–73. https://doi.org/10.4424/978-88-8420-849-1-04
Funaioli, M. P. (2011): Teodonzio: Storia e filologia di un personaggio. Intersezioni 2.
Garin, E. (1973): Le favole antiche. In: E. Garin: Medioevo e Rinascimento. Roma–Bari: Laterza.
Hortis, A. (1879): Studi sulle opere latine del Boccaccio. Trieste: Libreria Julius Dase Editrice.
Landi, C. (1930): Demogorgone. Con saggio di nuova edizione delle ʻGenealogie deorum gentilium'. Palermo: Edizione Sandron.
Molnár, A. (2021): Mítosz és egzegézis. Istennőábrázolás Giovanni Boccaccio De mulieribus claris és Genealogia deorum gentilium című műveiben [Mito ed esegesi. Rappresentazione delle divinità femminili nella Genealogia deorum gentilium e nel De mulieribus claris di Giovanni Boccaccio]. Dissertazione di dottorato. Szegedi Tudományegyetem.
Nobili, S. (2015): La ʻGenealogia' dalla Romagna al Parnaso. Sugli alberi genealogici del manoscritto autografo. In: G. Albanese & P. Pontari (eds.): Boccaccio e la Romagna. Ravenna: Longo.
Pastore Stocchi, M. (2002, 2007): Teodonzio, Pronapide e Boccaccio. Quaderni Petrarcheschi 12–13 (Petrarca e il mondo greco): 187–212.
Pertusi, A. (1963): Le etimologie greche nelle opere erudite del Boccaccio. Studi sul Boccaccio 1: 363–385.
Pertusi, A. (1964): Leonzio fra Petrarca e Boccaccio. Venezia–Roma: Istituto per la collaborazione culturale.
Porciatti, D. (2015): Boccaccio e il romanzo greco. In: Frosini, G. & S. Zamponi (eds.): Intorno a Boccaccio / Boccaccio e dintorni, Atti del seminario internazionale di studi (Certaldo Alta, Casa di Giovanni Boccaccio, 25 giugno 2014). Firenze: Firenze University Press.
Ries, J. (2005): Il mito e il suo significato. Milano: Jaca Book.
De Robertis, T., C. M. Monti, M. Petoletti, G. Tanturli & S. Zamponi (eds.) (2013): Boccaccio autore e copista, Catalogo della mostra di Firenze, Biblioteca Medicea Laurenziana, 11 ottobre 2013–11 gennaio 2014. Firenze: Mandragora.
Rollo, A. (2002): Leonzio lettore dell'Ecuba nella Firenze di Boccaccio. Quaderni Petrarcheschi 12–13 (Petrarca e il mondo greco): 7–23.
Santagata, M. (2019): Boccaccio. Fragilità di un genio. Milano: Mondadori.
Schwertsik, P. R. (2014): Die Erschaffung des heidnisches Götterhimmels durch Boccaccio. Die Quellen der Genealogia Deorum Gentilium in Neapel. Paderborn: Wilhelm Fink. https://doi.org/10.30965/9783846756720
Enciclopedie
Der kleine Pauly. Lexikon der Antike in fünf Bänden, München: Deutscher Taschenbuch Verlag GmbH & Co. KG, 1979.
Thesaurus linguae Latinae. Leipzig: B. S. B. B. G. Teubner Verlagsgesellschaft, 1971.